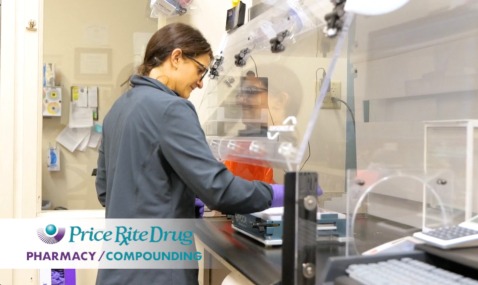 Price Rite Drug's pharmacy is proud to provide Bozeman patients with state-of-the-art compounding services.

Compounding is the art and science of preparing prescriptions crafted especially for the needs of each individual patient, allowing for a more customized medication. Although it has been a practice since hunter-gatherers used animal and plant products to mix poultices and continued through the 1900s, its uses faded out in the 1960s. Recently, many doctors and pharmacists are realizing once more that medications as they come do not always fit the needs of the patient. With compounding, we can help

patients have allergies, trouble swallowing pills, are in need of varying doses, pharmacists are able to remove unwanted ingredients and have more flexibility adjusting dosage levels. Our Montana compounding pharmacy can offer a unique solution for human and animal patients both young and elderly.
Since our Pharmacy renovation, Price Rite's Bozeman Compounding facility is already in compliance for 2021 standards, including a negative airflow room with double HEPA filters. All of our Bozeman pharmacists attended a rigorous week-long training with PCCA (Professional Compounding Centers of America) ensuring every staff member who handles compounding prescriptions is thoroughly trained. We are also the only Bozeman Pharmacy who will work with your insurance provider to ensure your compounded prescriptions continue to be affordable.